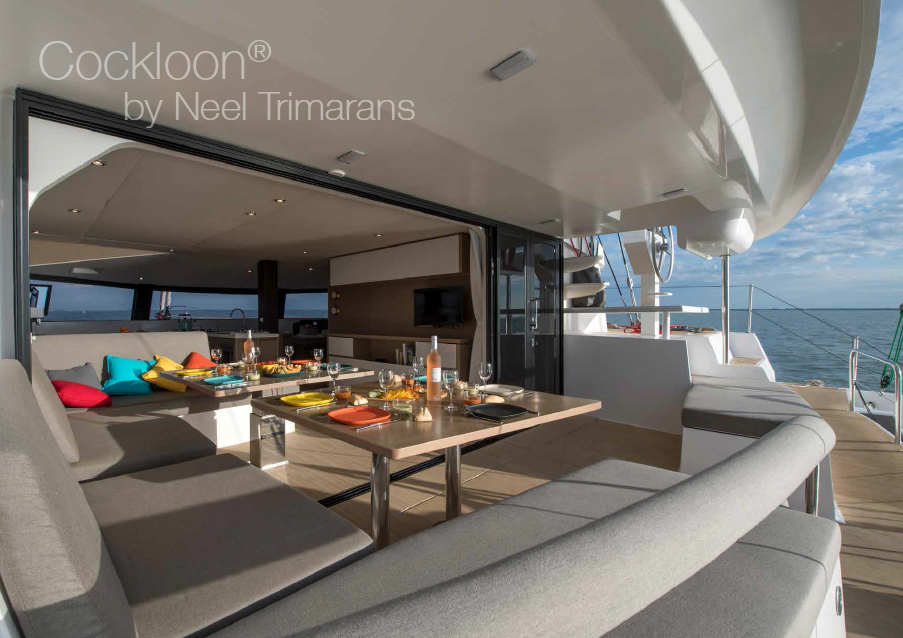 The Cockloon® by NEEL-TRIMARANS is an open style layout created by mergering the cockpit and the saloon.
Glass sliding doors seamlessely integrate the indoor and outdoor spaces resulting in a particularly impressive living area with an unbeatable view.
The interior seating area, coffe table and storage unit create a veritable living room.
The wide sliding glass door can be utilized to modify the layout of the space according to the weather and personal taste.
In the fully-open position the doors stows away completly to starboard, thus creating the fabulous cockloon® effect.
Upholstery made from 100% polyester fabric, specifically designed for both indoor and outdoor use, in particulary soft and pleasant to touch.
Testimonie Bernard  aboard NEEL 51:
« …The cockloon initiated on the 51 is well thought out; the bay windows disappear completely, the layout of the different zones is optimal: chart table with perfect vision under the sails, closed kitchen with vast work surfaces, several straight benches allowing as many nap stations or even at night in extra… »